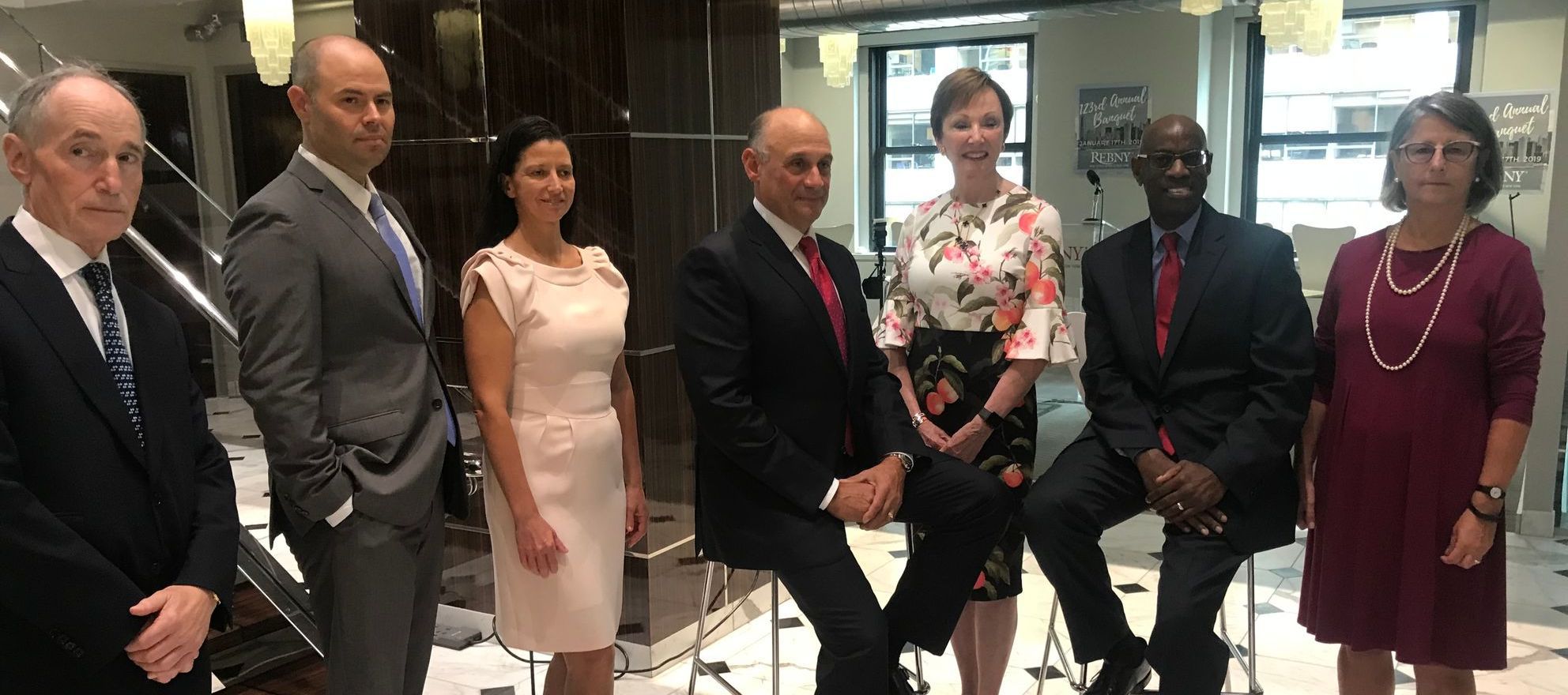 REPOSTED DIRECTLY FROM INMAN NEWS. THIS CONTENT HAS NOT BEEN MODERATED BY WFG NATIONAL TITLE.
The Real Estate Board of New York on Friday announced the annual winners of the trade associations top awards for outstanding professional success and exceptional contributions to the industry. The winners will be honored at REBNY's 123rd annual banquet, to be held on January 17 at the New York Hilton in Manhattan.
"This distinctive group of honorees reflects the kind of excellence, the dedication that we all strive for," REBNY Chairman William Rudin said during a press conference Friday. "Each one of these individuals has made exceptional contributions both in the real estate industry and to our entire city."
The following leaders in the industry will be honored at the dinner:
Daniel R. Tishman, principal and vice chairman of Tishman, will receive The Harry B. Helmsley Distinguished New Yorker Award. The award is presented annually to an industry member for invaluable contributions to the real estate community.
Diane M. Ramirez, chairman and CEO of Halstead Real Estate, will receive The Bernard H. Mendik Lifetime Leadership in Real Estate Award. The award recognizes Ramirez's, "exceptional accomplishments in the profession, leadership, and service to the real estate industry over the course of her distinguished career."
Carol Kellerman, president of the Citizens Budget Commission, will be given The John E. Zuccotti Public Service Award, which recognizes a New Yorker who has displayed, throughout his or her career, exceptional accomplishments that serve the public.
Helena Rose Durst, a principal at The Durst Organization, is set to receive The Kenneth R. Gerrety Humanitarian Award, which recognizes an association member's service to the community.
Bernard Warren, chairman and president of Webb & Brooker, will receive The George M. Brooker Management Executive of the Year Award, which recognizes individuals of superior accomplishment in property management based on outstanding professionalism, civic achievement, and contributions to the real estate industry.
Ira Z. Fishman, a partner at HSP Real Estate Group, will receive The Louis Smadbeck Memorial Broker Recognition Award, which, "celebrates a commercial broker with exceptional personal and professional integrity, leadership, prominence in the brokerage community, and service to REBNY's committees."
Alex Bernstein, executive vice president of new business at Bernstein Real Estate Group, will receive The Young Real Estate Professional of the Year Award, an award selected by the Young Men's/Women's Real Estate Association of New York and annually given to a REBNY member who exemplifies strong integrity, professionalism, and personal ethics.
Under Ramirez's leadership, Halstead has grown from just three offices in Manhattan to nearly 40 offices throughout the tri-state
area. She has previously been honored by REBNY with the Kenneth R. Gerrety Humanitarian Award in 2009 and was honored with the Residential Brokerage Division's Henry Forster Award for Lifetime Achievement in 2007.
"To get the award for lifetime leadership is just something I never anticipated and was totally honored when I received the call," Ramirez told Inman. "I think the thing that is so amazing to me is when I look at the past recipients who have received it, they're people that are an inspiration to me, I have admired them my entire career."
Ramirez said leadership is an everyday task, and that you don't just wake up in the morning thinking, "what do I have to do today as a leader.'
"You just do what is going to inspire your company, move your company forward," Ramirez added. "For me, it's just doing what I do best: one foot in front of the other, day in and day out and knowing that I have this incredible leadership team at my side, so I'm not doing it alone, I'm not sitting there trying to figure out everything myself. They're supporting me."
The views and opinions of authors expressed in this publication do not necessarily state or reflect those of WFG National Title, its affiliated companies, or their respective management or personnel.
Want to get these articles delivered directly to your inbox?
Sign up to get a weekly recap email with the hottest articles delivered every Friday.